Main Line Health Launches LGBTQ Inclusive Care Program
July 16, 2018
Originally published at https://www.mainlinehealth.org
Main Line Health holds ribbon cutting to mark opening of LGBTQ Inclusive Care
To close out Pride Month, Main Line Health held an official ribbon cutting last week for LGBTQ Inclusive Care–a highly specialized primary and preventative care program for the lesbian, gay, bisexual, transgender and queer/questioning community, from childhood through senior years. LGBTQ Inclusive Care providers have undergone specific training to understand the unique needs of the LGBTQ community and to provide highly competent care.
"Our LGBTQ Inclusive Care program will help to address disparities in care within the LGBTQ community, and will deliver culturally competent care for their unique health care needs in a comfortable, respectful environment," says Jack Lynch, FACHE, president and CEO, Main Line Health. "I am incredibly proud of our team for their commitment to bringing this program to life, and for making it their steadfast mission to create an environment where everyone can receive the care they need and deserve, and feel respected and included while doing so."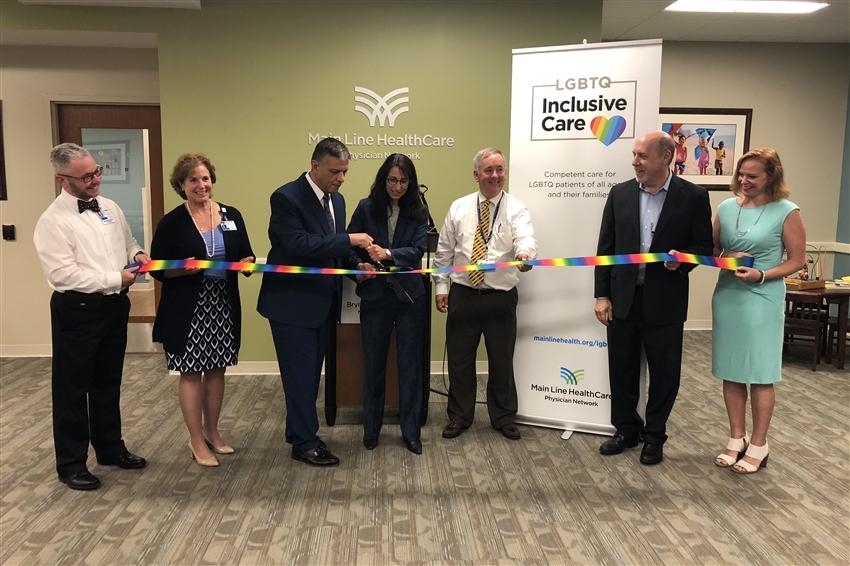 (From left) Rev. Liam Robins, chaplain, ACPE Certified Educator; Andi Gilbert, president, Bryn Mawr Hospital; Joseph Greco, MD, Bryn Mawr Family Practice; Joanne Glusman, MSW, LSW, Bryn Mawr Family Practice; Jack Lynch, FACHE, president and CEO, Main Line Health; Eric Mankin, MD, president, Main Line HealthCare; Becky Souder, DO, Main Line HealthCare Family Medicine in Paoli.
In January 2013, Main Line Health launched a Diversity, Respect & Inclusion initiative across the system, and has since then made it a core value of the organization, along with safety, communication, compassion, excellence, innovation, integrity and teamwork.
LGBTQ Inclusive Care is launching at two locations at Main Line Health—Bryn Mawr Family Practice and Main Line HealthCare Family Medicine in Paoli. As Main Line Health continues to expand upon its Diversity, Respect & Inclusion efforts, the list of practices that will be designated as LGBTQ Inclusive Care providers will continue to grow.
For information about LGBTQ Inclusive Care, visit mainlinehealth.org/lgbtq. Patients can also call a confidential, secure phone line to leave a message for the program coordinator, at 484.337.LGBT (5428).
About Main Line Health
Founded in 1985, Main Line Health is a not-for-profit health system serving portions of Philadelphia and its western suburbs. Main Line Health's commitment—to deliver advanced medicine to treat and cure disease while also playing an important role in prevention and disease management as well as training physicians and other health care providers—reflects our intent to keep our community and ourselves well ahead. A team of more than 10,000 employees and 2,000 physicians care for patients throughout the Main Line Health system.
At Main Line Health's core are four of the region's most respected acute care hospitals—Lankenau Medical Center, Bryn Mawr Hospital, Paoli Hospital and Riddle Hospital—as well as one of the nation's recognized facilities for rehabilitative medicine, Bryn Mawr Rehabilitation Hospital.
The Main Line Health system also includes Mirmont Treatment Center for drug and alcohol recovery; Main Line Health HomeCare & Hospice, which includes skilled home health care, hospice and home infusion services; Main Line Health Centers, primary and specialty care, lab and radiology, and other outpatient services located in Broomall, Collegeville, Concordville, Exton and Newtown Square; Lankenau Institute for Medical Research, a biomedical research organization; and Main Line HealthCare, one of the region's largest multispecialty physician networks.
Main Line Health is the recipient of numerous awards for quality care and service, including System Magnet® designation, the nation's highest distinction for nursing excellence, the Mid-Atlantic Alliance for Performance Excellence (MAAPE) Excellence Award, and recognition as among the nation's best employers by Forbes magazine. Main Line Health is committed to creating an environment of diversity, respect and inclusion and has proudly embraced the American Hospital Association's #123forEquity Pledge to Act to eliminate disparities in care. We are dedicated to advancing patient-centered care, education and research to help our community stay healthy.
---
View other articles related to Emerging Minority Leaders